How to find a custom software development company in 2023
20 April 2023
9 Minutes Reading Time
You'd like to have an app developed, and you need custom or bespoke software to drive your business needs, net, workflows, and big data, forward? So far, so good. But how do you find the right software development company?
With every company claiming to offer the best, you need to prioritize finding the closest fit for your purpose. Read on for our guide to navigating this crucial decision for outsourcing your software developments.
Know your why
To find the right software development partner for your business, you need to be completely clear on why you need a custom service, whether it's for blockchain, e-commerce, enterprise software, or modernization. What's driving your specific needs? What do you want the bespoke software to achieve?
Understanding the numerous benefits of custom software will help you to be clear on why you need it.
Custom software is developed specifically for your business, considering your specific needs and requirements, whether it's for blockchain integration, e-commerce functionality, modern enterprise software, or process modernization. Rather than trying to fit your business into a pre-existing solution, bespoke software solution will work exactly how you need it to, giving you a digital transformation as well as a competitive advantage.


As it is designed to streamline and automate your business processes, custom software can make your operations more efficient. This will save you time and resources, making custom software solutions more cost-effective eventually, than off-the-shelf solutions.


Custom software is scalable and set up to grow with your business, especially important for enterprises looking to expand and incorporate blockchain or e-commerce capabilities. As your business expands and changes, the software can be easily modified and updated to meet your evolving needs.


With custom software, you have more control over the security measures in place in your business, making your operations safer, which is crucial for businesses handling sensitive data.
Be sure to identify the most significant benefits for your project, whether it's related to blockchain, e-commerce, enterprise software, or modernization, and have a clear vision before kicking off your search.
Starting your search
Your journey to finding a custom software development company, whether it's for ERP solutions, Azure cloud integration, or any specific methodology, will most likely start with a search engine (where else!):
Industry websites and registers like Clutch are also useful places to look for companies that offer custom software development services, especially those specializing in ERP or Azure solutions. Don't forget to turn to your trusted business and social media networks for recommendations, too. Alternatively, attending industry events, such as a conference or trade show, is also a great way to start networking with software engineers and professionals in the software development industry.
Getting to know potential partners
So, the advantages of custom software development are indisputable (improved efficiency, time and resource savings, and a competitive advantage to boot).
Now to make the all-important decision of which experts to trust to deliver the software products you expect to see.
Start by building a well-researched shortlist of potential companies. We've compiled the top ten considerations (plus one for luck!) for you to find the best fit.
10 (+ 1) things to look out for when choosing a software development company
What does their website look like? Is it easy to navigate? This hints at the company's knowledge of usability and UI design.



How well communicated are the company's core services? Can you establish a clear understanding of their offering, including product development and digital solutions?




Does the company's mission and philosophy align with your own company values? Pro-tip: Take a look at LinkedIn and try to find out more about their culture. Do they have good employee retention or a high turnover? Do they promote flexible working and in ways that promote their best work? This may provide insight into how accommodating the company would be in your collaboration and whether they are well-equipped for virtual communication.


Does their portfolio of work speak to you? Do they have case studies showing how their end-to-end development process is met with innovative development solutions?


Do they have long-standing clients? How many years of experience do they have? If businesses have been working with the same company for several years, it tells you more about their quality of work than a single positive client review.


Does the company maintain a high-quality blog or showcase success stories on its website? A regularly populated blog says a lot about the company's project management

and knowledge of

programming languages.


How many years has the company been operating? More years equals more experience.



Has the company worked with startups before? To work with startups, companies will have developed agile working processes to meet tight deadlines and keep up with sudden changes in requirements, demonstrating their ability to handle

iterations

.




What do their collaboration models look like? Does the company involve clients, for example in UX design or strategy workshops?


What does the developer's tech stack inside the company look like? Do you feel confident, they will use up-to-date technologies and frameworks to help you optimize your software? It is worthwhile to do a little research yourself on the latest trends within the software developer scene.

Equipped with a few keywords, you'll be able to better assess whether their developers are keeping up with industry best practices and have a strong technology stack.




How do you feel when talking to the company's managers? Don't ignore your gut feeling!
Next steps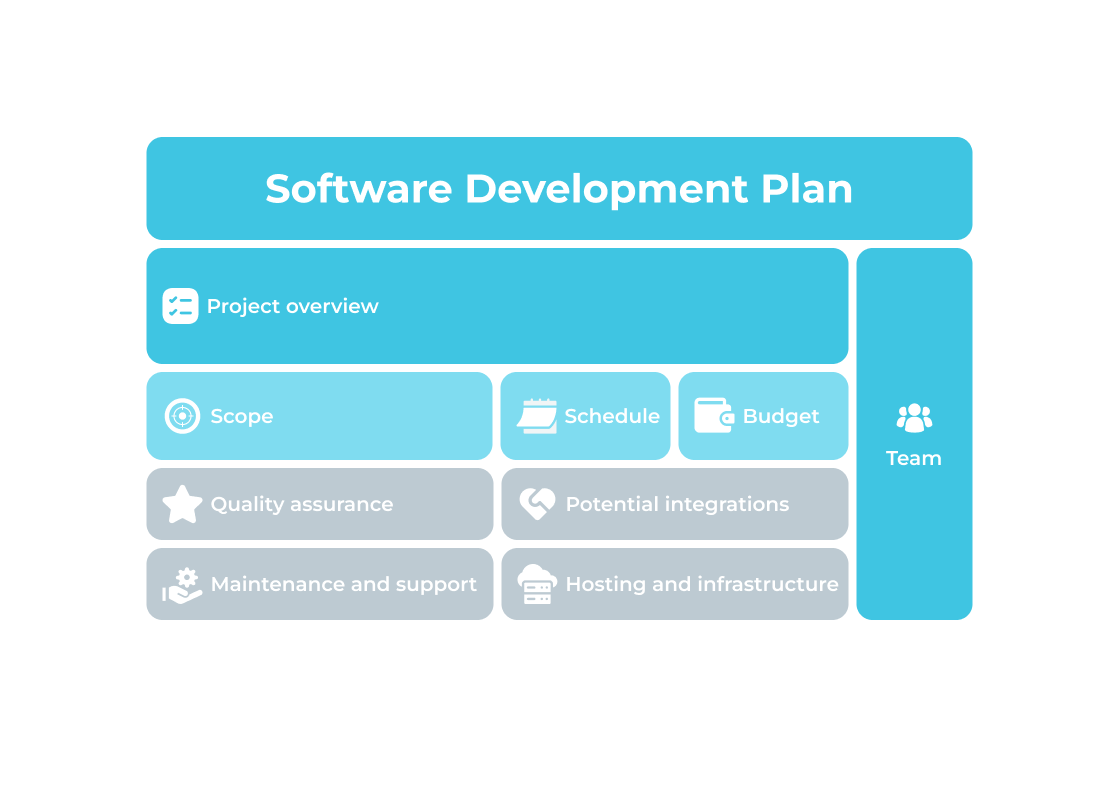 So you've now got some great potential partners lined up. But before signing on the dotted line with one, you need to be completely confident in your selection.
Arranging a workshop is a great next step to get a feel for what your collaboration would look like. Although you'll likely have to pay for this service, it should prevent you from making a much more costly decision that you later regret. Whether you end up working together or not, you will gain more clarity on what your business relationship and software development lifecycle could look like long term.
Next, let the dedicated team come up with a software development process that outlines the goals, timeline, resources and deliverables of your software development project. This should function as a road map for the development team.
A software development plan typically includes the following components:
Project overview—A high-level description of the project, including its goals, objectives, and stakeholders.


Scope—A detailed description of the features and functionality that will be included in the software, as well as any exclusions or limitations.


Potential integrations— Analysis and definition of the system that the new software has to integrate with. This should include a contact person for the third-party system.


Schedule—A timeline for the project, including key milestones and deadlines.


Team—A list of the resources dedicated to working on your project.


Budget—An estimate of the costs associated with the project, including labour, prototyping, licensing cost of potential third-party systems or APIs that will be used, plus overhead.


Hosting and infrastructure—An outline of where the application development will be hosted (in the cloud or on an existing on-premises server), IoT, who will provide the necessary infrastructure and how much it will cost.


Quality assurance: A description of the testing, quality assurance and data analytics processes that will be used to ensure that the software application meets the specified requirements for both the business and end-users.


Maintenance and support: A plan for how the software will be maintained and supported after it is deployed. This should include the company's availability after the project finishes and their process for handling support cases and real-time user experience.

Does the one perfect software development firm actually exist?
After all that, we don't want to let you down. But the truthful answer is, probably not! Why not? Simply because we as humans are not perfect either. Therefore, here at Valudio we truly believe that it is the chemistry between your team and the software company's team that lays the foundation for a successful collaboration (and as close to perfect as possible).
Successful collaboration requires transparency and open communication above all. Our advice? Don't hesitate to ask questions! Good queries to clear up at the first meeting include establishing the company's working hours, availability, communication processes, contact person for the project and approach to feedback.
In the end, selecting the right custom software development company is much like selecting new in-house talent. Key requirements must be met, but after that, the interpersonal component, or how well teams fit together, is the deciding factor.
Related blog's
12 September 2023 ·
18 min read
10 August 2023 ·
20 min read
See all articles